SIESTA KEY | SARASOTA DOLPHIN TOURS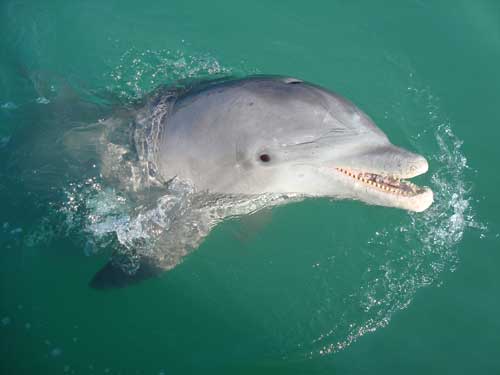 Dolphin Tours Pricing:
$30 Adults / $15 Children 10 and under.
We do
NOT
offer complimentary beer and wine on this cruise as this is a kid-friendly tour. This trip lasts 2 hours and departs at 10:00 am. Additional days are added as needed.
Discover the sights and sounds of bottlenose dolphins and manatees as well as other sea life inhabitants. Crystal clear waters enable you to see up close and personally, the dolphins frolicking in the waters near Siesta Key and Lido Key. If you are really lucky, you may witness a mother dolphin playing with her baby pup or experience the whole pod swimming right beside you. Sarasota waters are home to one of the largest populations of these amazing and graceful wild dolphins. But, there is more to see than just dolphins on our sight-seeing cruises. Many celebrities have homes in the area and we will point them out for you.

Seasonally, you can experience tarpon surfacing or jumping high out of the water. Perhaps spot a shark or a school of cow-nose rays, stingrays, or eagle rays. Other wondrous wildlife can be spotted in the blue skies above such as pelican, seagulls, osprey and even bald eagles. Relax, enjoy, observe and photograph the captivating sights you will find in our Southwest Florida waters. You are assured to have a fun trip filled with wonderful memories.